Goshinjo Therapy > Actual Testimonials > Volume 2
Volume 2 Severe Higher Brain Dysfunction
-A record of a recovery which cannot be explained medically. 'Love activates the brain.'-

Following Volume 1, I report another case of a higher brain dysfunction sufferer. In Japan it is estimated there are approximately 300,000 people suffering from the dysfunction. This patient was mentioned in the thesis 'Is Goshinjo therapy effective in cognitive impairment after severe traumatic brain injury?' (co-written by Ph.D.M. Keiji Hashimoto of Hashimoto Cognitive Research Institute and Master Kisho Kida of Japan Kihodo Association) published in the international medical journal called Neural Regeneration Research (NRR) in May 2013. Goshinjo therapy was introduced in the book as 'Miracle Therapy' (written by Masayoshi Toyoda, published by Gentosha) and the recovery of this young man is literally 'miraculous' because it cannot be explained medically.



He was very good at studying and sports.
Takuya Amamiya (fictitious name, age 22) visited Kihodo with his parents on 11th August, 2010 for the first time. He was in a wheel chair with his head down and his left eye was covered with his long hair over dark sunglasses. He was 19 years old at that time and I could easily tell that he was suffering from severe brain dysfunction, however, I was sure from the reports of some other patients at Kihodo in the past, that the more severe the symptoms, the more helpful Goshinjo therapy is. I still remember clearly when I first saw him, I wished him a speedy recovery.

Let me tell you some more about Takuya.
He is from the central part of Japan. He used to be a very active and popular boy, good at sports and a high achiever whilst at school. He managed to enter an elite high school remote from home to play his favorite sport soccer. Even though he became a member of the soccer club, he preferred to study for his future.
April 18, 2008.
'I got a call from Takuya's school as Takuya had been involved in an accident and was asked to come to the hospital. I rushed to Tokyo with my husband intending to spend only a couple of nights.' (Kazuko, Takuya's mother)
When his parents got to the hospital, Takuya was undergoing surgery, unconscious with traumatic brain injury and in a critical condition. He remained in ICU in a critical condition without improvement. Kazuko ended up unable to go home for six months.

Takuya was 16 years old when the accident happened. In the accident, a stick object penetrated Takuya's left orbit. The object caused a large and severe brain contusion to his left cerebral hemisphere. Not only subarachnoid hemorrhage and cerebral hemorrhage but also the left middle cerebral artery injury resulted in a cerebral infarction of the middle cerebral artery region. Deep unconsciousness and a coma continued for a month, and the state of the intermediate level of consciousness continued for 70 days.
Takuya received craniotomy for the removal of hematoma, external decompression and vascular anastomosis of the middle cerebral artery at the hospital, however the doctors said, 'He may remain in vegetative state for the remainder of his life even if he regains consciousness.' Kazuko spent all day every day at Takuya's side and prayed for his recovery.



'No comprehension and severe global aphasia' Takuya could not recognize his mother.
At the end of June, 2008, Takuya was moved to the rehabilitation hospital. He still could not speak with severe aphasia and could not recognize anyone including his mother due to severe cognitive dysfunction. His motor dysfunction was also serious and he could not move his right hand or foot with severe right hemiplegia together with the blindness of his left eye and the partial blindness of his right eye. Takuya started his rehabilitation program of the highest standard in Japan comprising physical therapy, occupational therapy, and speech-language-hearing therapy to conquer his severe higher brain dysfunction.
Takuya was moved into a wheelchair from his bed on the first day. After a while, he got his consciousness back and his tube feeding was changed to normal food. As a result of the rehabilitation, he improved so that he could walk with an ankle foot orthosis and a cane in a safe room. However, Takuya did not know where he was and he drew a picture showing that his family had passed away and turned into stars.

In January, 2009, Takuya was discharged. Takuya and his mother rented an apartment close to the hospital and started living by themselves away from their family. However, Takuya did not open his mind to Kazuko, refusing the food she cooked, refusing to go in an elevator with her, not allowing her to push his wheelchair, when she got close to his wheelchair he kicked her leg with his left foot, wouldn't come out of the toilet and destroyed furniture with his good hand. His defying and aggressive attitude lasted quite a while.
'I am so grateful to the staff of the rehabilitation hospital for supporting me during this tough period. Especially, I cannot forget that they helped Takuya to go home after rehabilitation on an extremely cold day in February. He kept looking up at the night sky and didn't want to go home for hours.' (Kazuko)
In April, Takuya gradually turned mentally stable and said, 'That's good.' He could also express his wish where he wanted to go by writing a character in the air.

Kazuko was relieved a little when she found out that Takuya recognized her as his mother, which was October 15, 2009, one and a half years after the injury.
Takuya's rehabilitation struggled from fear after he fell twice. He could say 'thank you' and 'good-bye', however his progress was not smooth.
'Takuya still could not read the alphabet or calculate. Every day I taught him some characters and words repeatedly. I would become sad when I saw young boys around Takuya's age on the streets,' Kazuko recalls.
How tough it must have been for her.
'One and a half years after the accident, we took Takuya to acupuncture or manipulative therapy, and we asked Dr. Kiyoshima, a counselor in Osaka for his advice.' (Kazuko)
The doctor recommended Goshinjo therapy at Kihodo.
'We were skeptical about this therapy of rubbing the body with gold probes, however we had a faith in Dr. Kiyoshima and as Kihodo was not far from where we were renting, we tried,' said Kazuko.



Takuya had improved by Goshinjo therapy but his improvement dropped off due to an admission to hospital, and an earthquake.
On August 11, 2010, 2 years and 4 months after the injury Takuya visited Kihodo as mentioned at the beginning of this report. He looked downward and did not respond clearly to us.
Because he could not lay down on a treatment bench, the therapy was applied to him in his wheelchair. The notes of 'Takuya's symptoms and progress' by Kazuko said, 'Takuya cannot walk due to the paralyzed right side of his body. He cannot move his right hand or his right leg well. He had his 5th spasm on July 10, 2010. He cannot speak. Cannot defecate and urinate well. He is very fearful of obstacles due to the narrow sight caused by the blindness of his left eye.' He was still suffering from severe brain dysfunction after 2 years of rehabilitation. His fear was serious and could not go to the toilet at Kihodo by himself.
Takuya kept visiting Kihodo 3 times a month and the first sign of some recovery appeared. His facial expression turned brighter and his comprehension improved. He also managed to express himself.
'The first change after the Kihodo visits was an increase in his speaking, and it didn't take long for him to say things like "Everyone is good.", "Scary" or "No one is here." which explained some of his feelings and circumstances. In October, he started to say, "Everyone here is gentle." or "I'm happy." and he surprised me with a rapid increase in his speaking.' (Kazuko)
In November, suddenly, Takuya said to Kazuko, 'Thank you so much." Kazuko replied, 'I'm happy that you are getting better.' 'Me too" Takuya replied. This was the first communication between Takuya and his mother since the accident. Takuya's incredible progress made Kazuko realize that Goshinjo therapy was really effective.
After 12 sessions of Goshinjo therapy, Takuya was admitted to hospital again.
Because of the admission, Takuya stopped visiting Kihodo and ended up losing some of the improvements he had achieved from being treated with Goshinjo therapy.
'When can we get out of this hell?' Kazuko took him home in despair.
Takuya continued with his hospital rehabilitation after being discharged, but they could not see any improvement and became depressed. They both lost their motivation and their visits to Kihodo decreased to only once per month.

March 11, 2011 Great East Japan Earthquake hit Japan.
On April 12, Takuya had his 6th spasm at home. It was severe and he lost consciousness for 3 minutes and then another 3 minutes. 'Never having skipped the medication for epileptic seizures after the injury…' Kazuko was shocked.
Kazuko took Takuya to Kihodo and told Master Kida, 'Because of the earthquake, concerns from Fukushima, as well as looking after Takuya… I am exhausted. We'd better leave Tokyo and go home.' Master Kida replied, 'Until you leave Tokyo, why don't you visit Kihodo every day? You will find it more effective because Jaki (Evil life energy) which Takuya carries in his body is enormous. We will only charge you children's fee.'
Kazuko decided to take Takuya to Kihodo twice a week.



Takuya could say at last… 'Mum' and 'I will do my best!'
After Takuya's visits to Kihodo increased to twice a week, Takuya became more energetic and his facial expressions, reaction time and comprehension improved dramatically as Master Kida said.
Kazuko noted in late April, 'Takuya understands better and his response is quicker. The staff at the rehabilitation hospital are surprised.'
On May 18, 2011 Takuya surprised everyone at Kihodo. 'Mum' Takuya said for the first time after 3 years and one month since the injury. 'Master Kida and his disciples were so moved, but more than anyone Takuya was shocked. Of course I was also surprised and moved, and this event gave me hope that he could further improve.' (Kazuko)

One month ago Takuya had his medical condition certificate prepared at the hospital. His conditions in the paper were, severe right hemiplegia (right upper & lower extremities abolished), impossible to walk independently without a cane or some support equipment, partial blindness of the right eye, blindness of the left eye, difficult to control traumatic epilepsy, severe aphasia, speaks only in small groups of words and severe comprehension disturbance. These dysfunctions were medically diagnosed as fixed symptoms on April 20, 2011. However, soon after the diagnoses Takuya started 2 sessions per week of Goshinjo therapy and his recovery speeded up, his motivation improved and his vocabulary increased.
'Takuya became passionate to rehabilitate his paralyzed right arm and hand. He became positive and often says "I'll do my best." despite his fearful experience of falling after becoming capable of walking.' (Kazuko's record)
She noted, 'Takuya walked on a bridge for 50m without any assistance on.' May 20, 2011.
'Takuya could walk inside the Opera City in Tokyo for 70m using a 4-point cane.' May 22.
'Takuya laughed at a comedy on TV. Takuya hummed some tunes which were trendy and that he used to listen before his accident.' May 29.
These changes mean the brain functions such as comprehension, auditory and memory functions had improved remarkably.
'Takuya went to Karaoke and enjoyed himself for 4 hours.' June 5.
'Takuya doesn't hesitate to practice walking with a cane in various places.' June 7.
Kazuko didn't have time to feel depressed any longer with these improvements and she encouraged Takuya as often as possible saying 'You are amazing, Takuya.'
June, 2011 on Takuya's 20th birthday he said, 'I will go to Kihodo every day!' They postponed leaving Tokyo and continued with Goshinjo therapy every single day.



Recovery of the the brain function helps rehabilitation.
Takuya visited Kihodo every day and his recovery speeded up even more. His exercises with Master Kida after the treatment increased in number and intensity day by day. It was very clear that Goshinjo therapy helped the recovery of his brain functions and his rehabilitation went very well. Following are Kazuko's records.
June 17, 2011 Takuya used to say 'No way', but not any longer. Instead, he says 'I'll do my best.' He can say 'Dad' now.
June 23. With Master Kida, Takuya squatted with his right leg only even though it was a light bending. I have a feeling that he understands most of the conversations these days.
June 29. The doctor of the rehabilitation hospital was surprised with Takuya saying 'Still a long way to go, but I'll do my best.'
July 5. Takuya said, 'My name is Takuya Amamiya.'
July 7. At Kihodo Takuya walked with a cane only for the first time.
July 11. Takuya counted numbers from 1 to 20.
July 13. Takuya showed his right wrist which was not mobile to Master Kida and asked, 'What can I do?' After Master Kida treated his shoulder and palm, his right wrist could bend. Takuya was so happy.
July 18. 'You have improved so much during the last month.' Takuya was told by a person from the rehabilitation hospital.
July 23.Takuya's right wrist can bend freely (7th treatment of his wrist by Goshinjo therapy).
July 28. Takuya can move his right toes as directed. Takuya said 'I told you so.' and 'I don't know yet.'
August 6. Takuya's posture when standing looks straight.

September 1. Takuya walked 10 steps without any assistance with his bare feet at Kihodo.
September 3. Takuya used to ask me to write what I say on paper. These days he doesn't need me to write and understands me with his hearing.
September 9. Takuya found out a staff member of the hospital was from Aomori and asked 'How was the earthquake on March 11?' His understanding of conversations improved a lot.
September 20. Takuya walked with a cane from the entrance of Kihodo to the treatment room.
October 10. Physiotherapist was surprised with the mobility of Takuya's right ankle and foot.
November 20. Master Kida said, 'Takuya, you understand perfectly, don't you?' and Takuya replied, 'Before I couldn't, but now I can. Too easy.'
December 9. When Takuya had his left eye which was completely blind treated by Master Kida, Takuya said, 'I can see', 'It's the best', 'It's beautiful,' and 'Cool'.

On December 24, 2011 Christmas eve.
Takuya gave Master Kida a message at Kihodo. He drew a Christmas tree, hands to eliminate Jaki (Evil life energy), and the words 'Kihodo, Kisho Kida, Love' on some paper. (Refer photo.)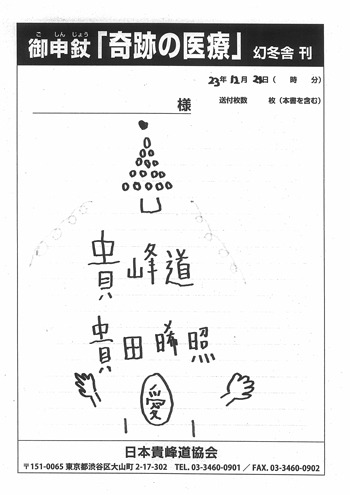 Takuya wrote the Kanji characters for 'Kihodo Master Kisho Kida' in front of us 4 days ago. He had to refer to a sample first, but he remembered how to write them on the spot and he doesn't need to refer to the sample any more.
At Kihodo, Takuya's improvement gave other patients pleasure and encouragement. A message from Takuya has been placed in the waiting room and moves people into tears.

The record of Takuya's recovery with Goshinjo therapy during the last 6 months cannot be explained medically. His brain function has improved so much since the fixed diagnosis of 'severe aphasia, severe comprehension disturbance, right upper & lower extremities abolished, impossible to walk independently without a cane or some support equipment and blindness of left eye' on April 20, 2011, 3 years after the injury.



Takuya became a Goshinjo therapist.
The improvement of Takuya in 2012 must be difficult to believe for higher brain dysfunctions sufferers.
March 2012, Takuya was able to get on the treatment bench by himself and the effects of Goshinjo therapy accelerated. He improved his ability to walk smoothly and his ability to communicate perfectly. He started holding Goshinjo implements to treat himself. In April, he could tell Jaki (Evil life energy) being expelled from his hand during treatment. In May, he told Master Kida that he wanted to learn Goshinjo therapy. He said to Master Kida, 'When you are in pain, I will look after you,' whilst practicing on Master Kida.
In June, Takuya was able to complete a street crossing using a cane whilst the signal was green. Takuya said, 'I walk to get on the subway.' He also climbed some stairs and a train station platform to get on the subway with a cane in July. He became very courageous.
Around that time, we found out that the sight of his left eye, which was diagnosed as completely blind and the prognosis was also the same, was improving. It is also impossible to explain medically that his left eye with severe damage of the optic nerves which medically was impossible to recover can begin to see again.
Takuya started learning Goshinjo therapy with his own implements on October 2 and on the 20th he received his certificate as an accredited Goshinjo therapist. Takuya's goals must have been determined to return to society as a therapist and try to be independent.

Every December, Master Kida is invited to give a special lecture in Tokyo Therapeutic Institute. In 2012, Takuya was invited to attend the lecture. He stood next to Master Kida and said to the students, 'Goshinjo therapy is really great. I am serious.'
Takuya showed how much he had improved by doing squats in front of the students and received great applause.
'Takuya is amazing. He was not a person who could stand up and speak in front of people before the accident. After receiving Goshinjo therapy, he became bright, gentle to everyone, grateful and respectful to persons who care for him, his fears have gone and has become brave. Only the good qualities of Takuya he originally had such as gentleness and courageousness seem to be now prominent,' Kazuko said. This must explain that Goshinjo therapy is effective not only to 'the brain' but also 'the mind'.

There is another thing which may surprise higher brain dysfunction sufferers.
The recovery of Takuya's brain function has been dramatic. To check if there are changes in his brain condition he had a CT scan in April 2012 when he was 21 years old. The images showed almost no changes from the images taken just after the accident. This means that the images show that his brain still has severe damage which may make him bedridden. Ph.D.M. Keiji Hashimoto of Hashimoto Cognitive Research Institute recognized this needs a new concept of brain function recovery and has released the thesis 'Is Goshinjo therapy effective in cognitive impairment after traumatic brain injury?' to the international neural regeneration medical journal NRR with Master Kida.
'The typical symptoms of higher brain dysfunction are lack of motivation or cannot control emotions. In Takuya's case, his motivation is very high in comparison with those with a healthy brain and he can control his emotions well. He looks full of life and calm. His facial expressions are very different from persons who have recovered from higher brain dysfunction by rehabilitation,' said Ph.D.M. Hashimoto. Even specialists of higher brain dysfunction cannot explain Takuya's recovery from a medical perspective.



'It's not me. It's Goshinjo therapy.'
When Takuya was told by other patients at Kihodo, 'You have gotten much better,' Takuya always points to Master Kida with his hand and says, 'It's not me. Thanks to Master Kida for everything.' Master Kida replies, 'Firstly, Dr. Kiyoshima who introduced Kihodo to you and your mother. Also Mountain Ohmine which gives us Qi.' Takuya continues, ' I know that. I understand that, but Master Kida is the most wonderful person. Thank you very much.'
This conversation has been repeated often each day. Other patients who happen to be there can feel Takuya's pure spirit of 'gratitude' and they feel like taking off their hats to him. Everyone loves Takuya.
Takuya's first patient as a Goshinjo therapist was Mrs. Hatsune Tamura (fictitious name, age 80).
Mrs. Tamura has been visiting Kihodo twice a week since July 2012 to bring a family member suffering from a progressive incurable disease. She had lost her hearing suddenly in December 2011. Despite her visits to otolaryngology, it didn't improve and was diagnosed as 'sudden deafness with no cure.' As both her ears could hardly hear, she was afraid of being spoken to by someone in the waiting room and kept looking downwards.
August 2012, Takuya spoke to her, 'Are you alright?' He treated her right shoulder with Goshinjo implements for 30 minutes. Takuya could tell there was accumulated Jaki (Evil life energy) around her shoulder. She realized her treated shoulder felt lighter in the train on the way home and she felt cheered up.
Takuya found that Mrs. Tamura could not hear and he started treating her ears in Kihodo's waiting room. Around October, Mrs. Tamura realized she could hear people's inaudible voices, and by November she could hear clearly.
'Up until then, I couldn't hear any of the announcements on a bus, so I had to stand close to the bus driver to see when to get off. Around November I could hear all the announcements clearly even when the bus was crowded so I can now sit down in the back of the bus and relax. Finally I was able to enjoy the year ending TV program at normal volume. I collected a lot of the information about hearing aids after being told there was no cure, I don't need it any longer. I felt that my Jaki (Evil life energy) came out through my hand when Takuya treated me whilst waiting in the waiting room, my loss of hearing cured and the stiff shoulder I used to suffer had gone. Takuya always asked me "What's wrong?" and treated me hard and carefully with Goshinjo implements despite his own severe brain dysfunction. He is a wonderful person and I am really grateful to Takuya.'
Takuya's response is always, 'It's not me. It's Goshinjo therapy.'

Mrs. Tamura actually used to be a professional medical nurse who worked in a general hospital for 30 years. That's why she feels more amazed by the achievement of eliminating Jaki (Evil life energy) performed by Takuya who suffers from a brain dysfunction.
'Goshinjo therapy is really amazing. It is hard to believe that my hearing loss which could not be cured by modern medicine could be cured by Takuya who receives treatment for his higher brain dysfunction. My family and I were inspired. Eliminating Jaki (Evil life energy) cures incurable diseases and helps the state of minds. I have never heard of any other treatments like Goshinjo therapy and I wish I could have known about this therapy when I was a nurse. Takuya is developing day by day with his goal of becoming a Goshinjo therapist. My heart wishes him to become an excellent therapist.' (Mrs. Tamura)



'Look forward!' Takuya to be independent as a therapist.
After 2 years and 2 months since Takuya started to visit Kihodo daily, the day of his departure arrived at last. In September 2013, Takuya and his mother left Tokyo to go back to their home in central Japan. He will prepare to perform Goshinjo therapy at home.
I interviewed Takuya on August 28. Although he still could not speak smoothly, he answered each question politely. Following are those Q&A's. I interpreted Takuya's gestures to words in brackets and added notes with *.

Q: When did you feel the effectiveness of Goshinjo therapy for the first time?
A: At first, I didn't know anything about Goshinjo therapy. So when I came to Kihodo and got a little better, I went back to the hospital for further improvement. (*He meant the period that he stopped therapy and admitted to the rehabilitation hospital.) But I didn't get better. When I came here every day I got better and better. Then I realized that Goshinjo therapy was great. My mother is amazing because she took me here every day. (Looking at his mother) Thank you, mum.

Q: When you started to come, you were always looking down, weren't you?
A: I didn't understand (what people said). But now I understand. Now, (proudly) I look forward! I will do my best.

Q: Your comprehension and communication are perfect now.
A: Somehow. But not yet. More and more to go.

Q: You really did well.
A: It's not me. (Pointing Master Kida with his hand) Everything is (due to) Master Kida. And Goshinjo therapy is great.

Q: What is great about Goshinjo therapy?
A: Goshinjo therapy removes pain like 'What? Why?' And not only me, everyone can (apply Goshinjo therapy). Goshinjo therapy makes women beautiful and men strong. Makes them gentle. Goshinjo therapy is really great. Not many people know about it yet. I wonder why (they can't). But with a little more time they will know (how great Goshinjo therapy is). I know that.

Q: Now you are able to speak very well. What is your favorite word?
A: Love. These are love too (showing his Goshinjo implements). There are various types of love, but I like every type of love.

Q: What is your target?
A: There are two. I get better with more Goshinjo therapy (while stroking his right arm with Goshinjo implements held by his left hand). Much better. I (would like to) give (Goshinjo therapy) treatments to everyone so that they can say, "There is no pain. This is the best." So, I am not there yet, I come here once a month (with a gesture of learning Goshinjo therapy). Studying at school was my first priority before. But now, (showing Goshinjo implements) these are my priority. I am only 22 years old. So, I will do my best.'

Takuya once diagnosed with 'severe comprehensive disturbance and severe aphasia' due to higher brain dysfunction, however, his comprehension and his ability to communicate are perfect. His ability to think and his memory are excellent. His spirituality is extremely high, I think.



Devoted support from his mother and 'A role model' for the disabled.
I also heard from Takuya's mother, Kazuko.
'Staying in Tokyo for 5 years and 4 month after the accident gave Takuya the best environment. I am very grateful to his friends who prayed for his recovery with 1000 origami cranes together with the doctors, physiotherapists, occupational therapists, speech therapists and helpers who gave us great support at the rehabilitation hospital. Especially meeting Master Kida has opened Takuya's path in his life. Master Kida gave Takuya lots of love which cannot be expressed by words alone, he personally gave Takuya treatments and Master Kida taught him Goshinjo therapy. I can never thank Master Kida enough.'
When Kazuko looks back at the struggle with Takuya, Goshinjo therapy is the center of his miraculous recovery.
'The reason we spoke about ourselves and our tough times was because we wish from our hearts that all higher brain dysfunction sufferers and their families who struggle like us would be saved by Goshinjo therapy. As we believed in Goshinjo therapy and kept trying it, Takuya's brain recovered, his fear disappeared, and his speaking and motor ability were improved. I could never think about him returning to a normal society after the accident, but now he has recovered well enough to be able to say "Goshinjo therapy is great" with his bright eyes. This is unbelievable. There were tough times, however, Goshinjo therapy has also helped me to stay healthy both mentally and physically up until now and I am so grateful.'
We are all moved by Kazuko's motherhood which has supported Takuya and with her strong conviction and vitality which have helped Takuya's recovery. Kazuko says it's her great pleasure to support Takuya who wants to return to society.
'I will never stop supporting Takuya who is positive in pursuit of his goals despite his disabilities. In addition, he wants to do something for others. I think he is a stellar individual. I have supported Takuya since the accident and now I am supported by him mentally. I am really looking forward and hope that his future will succeed with Goshinjo therapy.'

In July 2013, it was Kazuko's birthday. Takuya said, 'Happy birthday!' suddenly.
Kazuko was so moved and could not face Takuya because she didn't want him to know she was crying. After a moment she said, 'This is the first time you have said "Happy birthday to me."' Takuya replied, 'I could not say it before.'
'Takuya is a boy and he has never said 'happy birthday' to me before. After the accident he could not say it because "of his shyness" and "he literally could not say it" due to his aphasia.'
Takuya pleased her on August 24, 2013 as well.
On the way home from Kihodo, Kazuko said to him, 'Although there were many ups and downs during the past 5 years and 4 months, it was worth trying hard, wasn't it?' Takuya replied by shaking Kazuko's hand and said for the first time, 'I love you.'
'Takuya has always said to Master Kida that he has liked him and has always shown his gratitude. I was so glad to hear "happy birthday" and "I love you" from Takuya.'
There will be more ahead and with Takuya's drive he will be a role model for the disabled.



'Love activates brain.'
Why was Takuya's brain function dramatically improved by Goshinjo therapy?
Ph.D.P. Gen Matsumoto (1940-2003), an internationally recognized brain scientist who was the Group Director of the Brain Science Institute in RIKEN and studied information processing ability of the brain, had started the research about Goshinjo therapy. Ph.D.P. Matsumoto mentioned in his book 'Love activates brain' (published by Iwanami-shoten) as below.
'For the brain, information is what activates the brain and the most influential information to activate brain is related to "feelings and emotion". Among "feelings and emotion", "love" is the most influential information to activate the human brain.' 'Love activates the brain to improve the motivation for the growth of the brain. The most valuable thing for the brain and for its activation is to fulfill a relationship desire which is generally expressed as love.'
Then, what is 'love' which activates the brain?
There are many cases that a patient does not recover from an illness even though he/she is loved by his/her family. Master Kida thinks that the 'love' which activates the brain is more 'to love' than 'to be loved', and 'to love' means 'an altruistic mind'. He explains Takuya's dramatic recovery that 'the altruistic mind, wanting to help people who suffer from illnesses, was created in Takuya and this helped to activate his own brain more.' The theory of Ph.D.P. Matsumoto 'love activates brain' and Takuya's words 'Goshinjo therapy is love' simply explain what Master Kida has said.

Although Takuya still has a severe injury to his brain, i.e. his nerve cells in a large area of his brain which are in charge of his speech, comprehension, vision and motor ability have died, his brain is still functioning. For this, Master Kida explains his hypothesis of the recovering mechanism. 'In Takuya's case, I think that the power of Qi drew the trigger of genes and turned on the switch to reconstruct his cerebral nerves.'
I wondered what a specialist in genes may think about Master Kida's hypothesis.
I asked Yoshinori Kosugi, MD., Ph.D, the Director of Women's Clinic Minami Aoyama and Tokyo Association of Obstetricians & Gynecologists who is an expert in genes. 'I can agree with Master Kida's idea,' he said and added his inference why only the good phases were extracted from Takuya by Goshinjo therapy.
Dr. Kosugi prefaced, 'This is only a supposition,' and he continued as below.
'There was a time it was believed that genes were egoistic and life is there for their existence and the increase of their propagation rate. However, these days in the area called evolutionary medicine it is thought that genes are altruistic and human beings actually behave for others even if they have to sacrifice themselves. If human beings are originally social and altruistic, and wanting to do something for others is the right direction to follow, it is reasonable that human beings pray for a person's well-being or give a person a treatment. If Goshinjo therapy drew the trigger of Takuya's genes with power of Qi to newly construct his cerebral nerves, it is possible to think that the altruistic power which genes originally possess are maximized.'
The inference of Takuya's recovery by Dr. Kosugi from the view of the forefront gene research is extremely interesting.

I think the reason why Goshinjo therapy activates the severely injured brain of Takuya and brings out his good qualities which he originally had can be explained by the hypothesis of Master Kida which is 'Goshinjo therapy draws the trigger of genes' and the inference of Dr. Kosugi which is 'The power of Qi maximizes the altruistic power which genes originally have.'
I cannot help wishing that Goshinjo therapy will be scientifically analyzed as fast as possible for all higher brain dysfunction sufferers.

September 27, 2013
Masako Kubota
English translation R & A Grosso